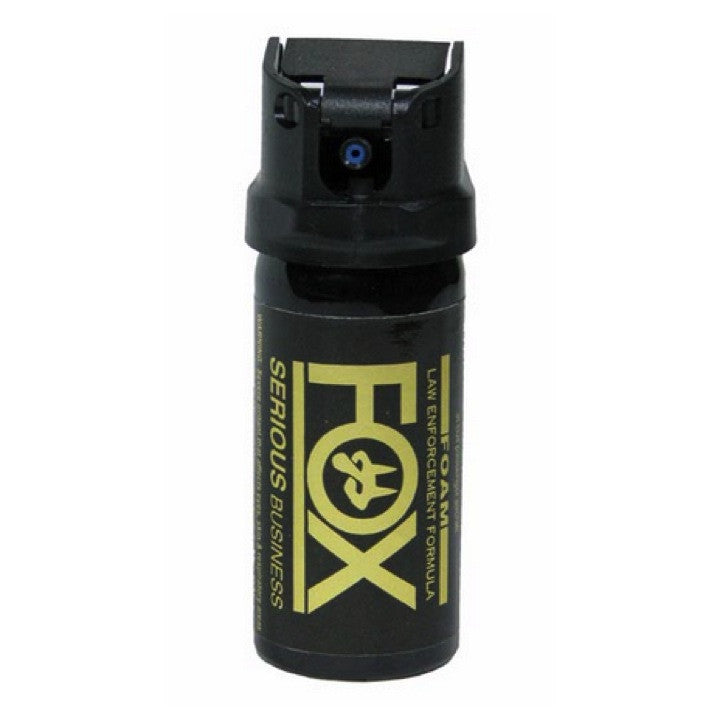 Fox Labs - Mark-3 1.7oz Flip Top Foam
---
FOX LABS - MARK-3 FLIP TOP - 1.7OZ. PEPPER SPRAY
(FX-25FTFM
)
50-Gram Foam (Approx. 1.78 ounces)
For close-in situations and enclosed areas. Great for schools, hospitals and other areas where cross-contamination must be kept to a minimum. Same as our other powerful sprays-but in foam! Comprised of our original 1993 5% formula using 2 million SHU OC resin. This formula still out performs all foam and gel products in the market.
1.7-oz. (50-grams), 4" H x 1 3/8" Dia.
Discharges approximately 14-16 sec. bursts
Spring-Loaded Flip Top Unit reduces instances of accidental discharge
Foam Pattern goes 8 - 12 feet.
Invisible UV die for assailant identification (under black light)
Non-flammable and Taser safe
Up to 3 Year Warranty (Shelf Life)
Birth date listed on each canister
In stock in Flip Top canisters, but also available in Cop Tops and 75 or 100-gram units by special order. Minimum orders to qualify, call for details.
Note: FOX LABS does not use tiny nozzle openings that reduce the amount of formula discharged per burst. Other companies do this so they can make claims about more bursts per unit for reasons of marketing to make their products sound better to those who don't stop and think about what this actually means. The reality is that each canister of formula is the same volume regardless of whose canister it is in, so the only way to get more bursts from a canister is to reduce how much formula is being discharged per burst. FOX LABS units discharge as much as 3 grams of their famous formula as possible per burst to make sure you have an opportunity to stop the assailant/s as quickly as possible.
---
Share this Product
---
More from this collection