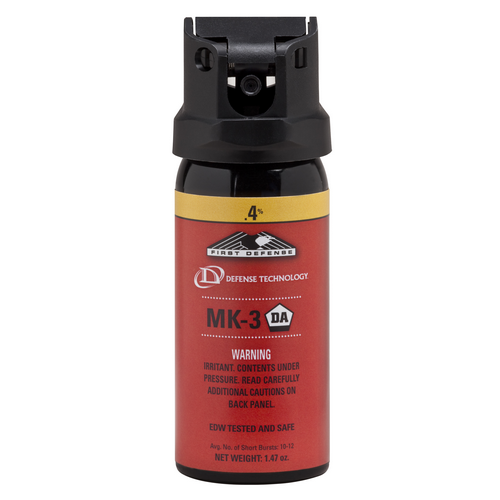 Def-Tec MK-3 First Defense 1.33% 1.47 oz STREAM
---
The Def-Tec 5239 First Defense X2 MK-3 is 1.47 ounces and is available in Stream delivery.
First DefenseŒ¬ X2 has all the industry-leading attributes of the original First DefenseŒ¬ but with twice the capsaicin concentration for extra pungency. The X2 MK-3 contains 6-8 half second bursts and projects a stream of 10-12 feet.
The OC manufactured for First DefenseŒ¬ X2 is water-soluble, all-food grade and thoroughly tested for effectiveness and safety. Defense Technologyäó»s research has determined that our 0.4% capsaicinoid level is the optimum amount of capsaicinoids to be consistently effective, but not so excessive that decontamination time or simplicity is compromised. First Defense X2 360ŒÁ䋢 combines a hotter product with the latest breakthrough in aerosol performance. Utilizing compressed air with barrier separation from the liquid formulation, First Defense X2 360ŒÁ䋢 is capable of delivering a stream pattern at any angle and any orientation.
---
Share this Product
---
More from this collection