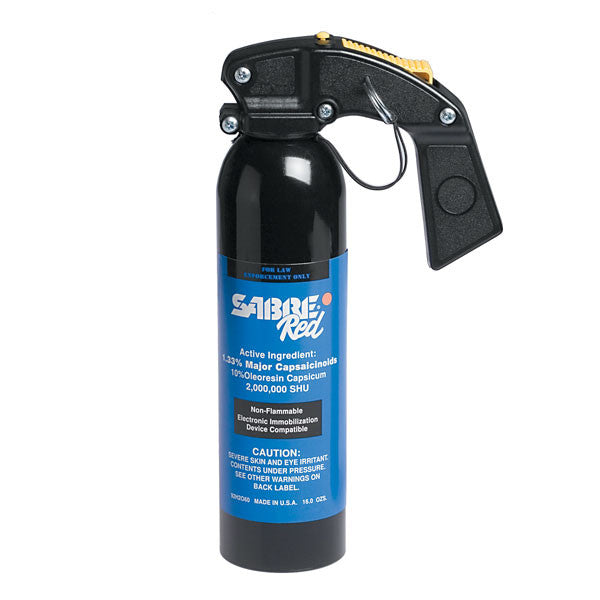 SABRE Red MK-9 H2O 16 oz (92H2O60)
---
Sabre RED - 92H2O - Law Enforcement Grade Police Duty Spray
The SABRE RED H2O series uses distilled water as the major inactive ingredient to establish a comprehensive product offering of nonflammable defense sprays. The Sabre H2O Series eliminates flammability concerns providing agencies with the unique benefit of safely utilizing their EID together with their defense spray. This 10% OC option contains a devastating 1.33% Major Capsaicinoids producing the greatest level of incapacitation available by a single ingredient spray.
The SABRE RED 92H2O series is available in 16 oz canisters in both stream and foam spray patterns:
Features:
The SABRE RED H2O series is Law Enforcement Grade and is the Police Duty Spray of choice for thousands of Law Enforcement Agencies around the world
The SABRE REDH2O series is a water base spray, which allows for quicker decontamination periods
Nitrogen is used as the propellant - As a result, the H2O series maintains effective operating pressure in extreme temperatures
The RED H2OSeries provides the highest level Ultraviolet Marking Dye to aid in suspect identification
High capsaicinoid content sprays provides increased stopping power
Deployment Versatility - Subjects duck, move, fight and attempt to block the spray. It does not matter how hot the spray is if you cannot hit the target acquisition area. SABRE duty belt canisters will deploy from an inverted position to increase target acquisition.
Guaranteed heat levels - SABRE is the only pepper spray manufacturer operating an in-house HPLC Laboratory, ensuring capsaicinoid consistency in every canister.
---
Share this Product
---
More from this collection