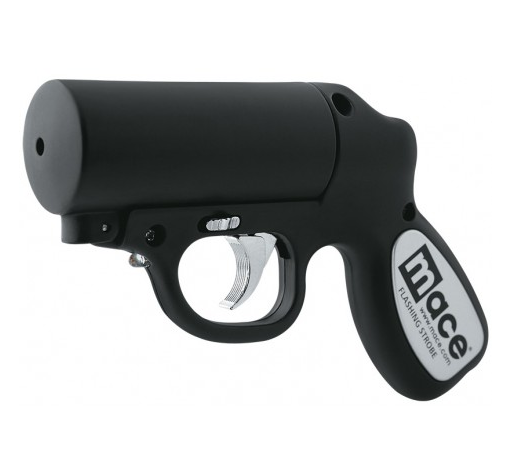 ---
The new Mace Pepper Gun is the most accurate defense pepper spray available. The OC super strength pepper spray formula (.74 Capsaicinoids) is contained in a disposable cartridge that can be replaced when empty. The cartridge utilizes an advanced delivery system, Bag-In-A-Can䋢 technology, that allows you to spray a constant stream, reaching up to 25 feet, from any angle!
The trigger activated LED light helps you to accurately aim the Pepper Gun and momentarily distract the attacker in the dark. The pepper gun includes a 28 gram OC Pepper cartridge, a water test cartridge (practice makes perfect), and batteries for LED light operation.
MACE䋢 PEPPER GUN uses an advanced delivery system utilizing patented Bag-in-a-Can䋢 Technology.
This new system allows the pepper spray to spray like an aerosol in a continuous fashion from any angle, even when Pepper Gun is held upside down. Sprays 7 blasts up to 25 feet.
Mace Pepper Gun comes with: Pepper Gun dispenser, One 28 gram OC cartridge, One Water test cartridge and Batteries (for the LED light)
Trigger Activated LED Light
Allows for better aim
Temporarily disorients intruder
Pepper MaceŒ¬ has a powerful Oleoresin Capsicum (OC) pepper formula that creates an intense burning sensation and causes an attackeräó»s eyes to slam shut upon direct contact. OC pepper is a naturally occurring substance derived from cayenne peppers.Œæ Available in Black/Blue, Sky Blue, Silver andŒæPink.
---
Share this Product
---
More from this collection